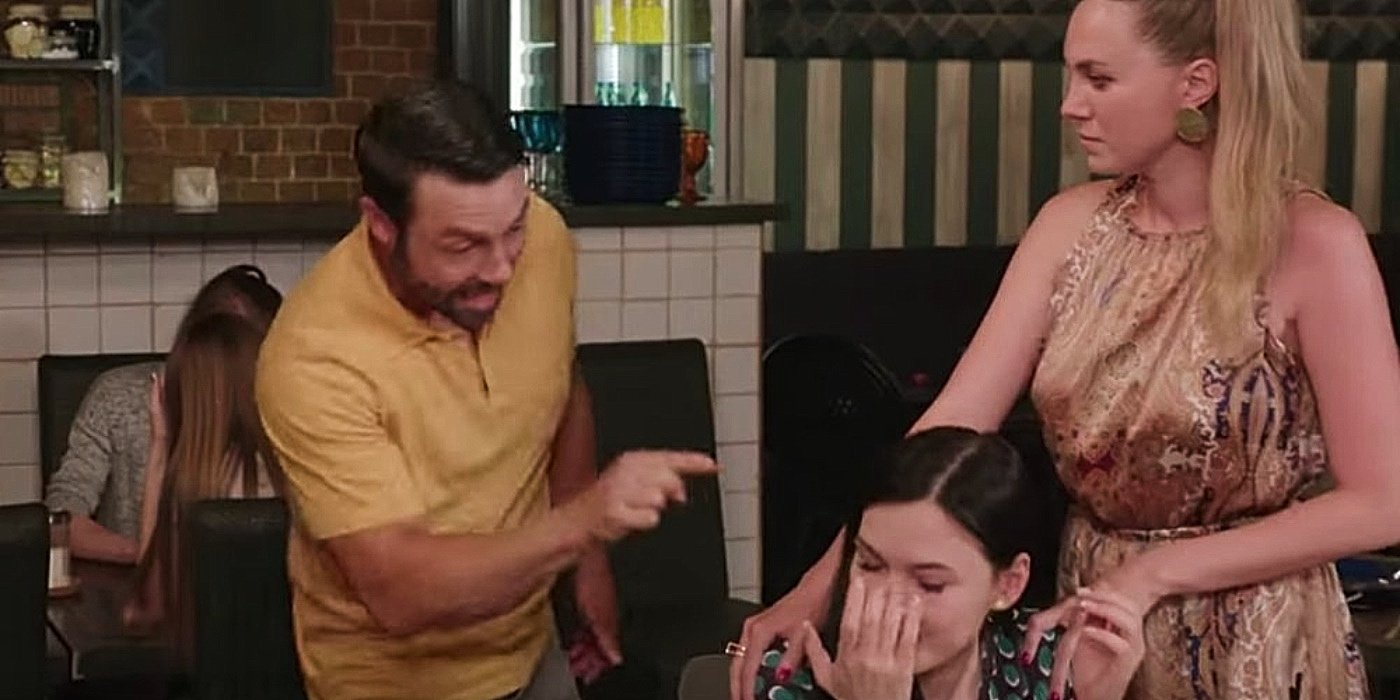 We know you're wanting a complete breakdown of the criminal history of Geoffrey from 90 Day Fiancé. The newest reality star is no stranger to a life of crime and ignoring the rules.
Geoffrey has not had an easy start to the season. He was quickly villainized due to his dark background. Fans have already gone so far as to try and call for his removal from the show. Most recently, fans watched as his anger towards Varya bubbled over and exploded after she admitted to lying about talking to other American men through her social media accounts. Since the altercation, many fans are curious about the details of what he had been actually been accused of.
Related: 90 Day Fiancé's Geoffrey Gives Story Behind Strange Nipple Tattoos
Right before the newest season premiered, it was reported by Knox News that the reality star had been summoned to court in January due to a 2019 arrest. The arrest occurred after an alleged altercation that turned violent between his girlfriend as she accused him of dragging her across the floor of their house and smashing her head into the walls. Geoffrey pleaded not guilty to the charges while the woman was granted a restraining order. During the short court appearance, the reality star was legally charged with aggravated kidnapping, domestic assault and interference with emergency calls.
Before the charges in 2019, he was fighting an ongoing custody battle with his fourth ex-wife, Brittany. The two had reached a divorce agreement, but according to Starcasm, their ability to co-parent had broken down. The legal papers showed that Brittany was given one week a month of custody while Geoffrey had custody the rest of the time. Brittany lost custody of her son as she tried taking him to Canada without permission back in 2017.
Geoffrey's second wife filed court documents in 2004 accusing her husband of physical assault. The document also claimed that there were medical records to back up her statements. The ex-wife also claimed that he assaulted her in front of their children. Hidden among the plethora of charges was also the accusation that Geoffrey had raped his ex-wife multiple times. The ex-wife testified that the reality star "told her he was going to take her life."
Back in 2013, the TLC personality was filing for another divorce, reportedly his third wife. The wife had asked to file a protection order against Geoffrey and had also requested that he not be allowed to co-parent as she accused him of putting their son in danger as he was "selling opiate medication" and had a history of using his children as a "mule."
The trail of criminal activity leads back to 1997 when the reality star was reportedly charged with numerous drug charges when he was just 19 years old. There was also a blip on the radar in 2000 on charges of larceny and theft that was under $500. The outlet also noted that Geoffrey had spent time behind bars between 2001 to 2003 but could not find the official documents. It was reported that he was in "possession of five pounds of marijuana, two ounces of cocaine, $15,000 and a firearm."
 The lesson that crime does not pay has not seemed to stick with the middle-aged rebel. Now he truly believes that he will be able to become a sponsor for a K-1 visa even though it would look as if his long rap sheet would hinder the government from approving him.
Next: 90 Day Fiancé: Anisfa Dating New Boyfriend While Estranged Husband Still in Jail
90 Day Fiancé airs Sundays at 8pm EST on TLC.
GTA 6 Character Possibly Leaked By Voice Actor Resume